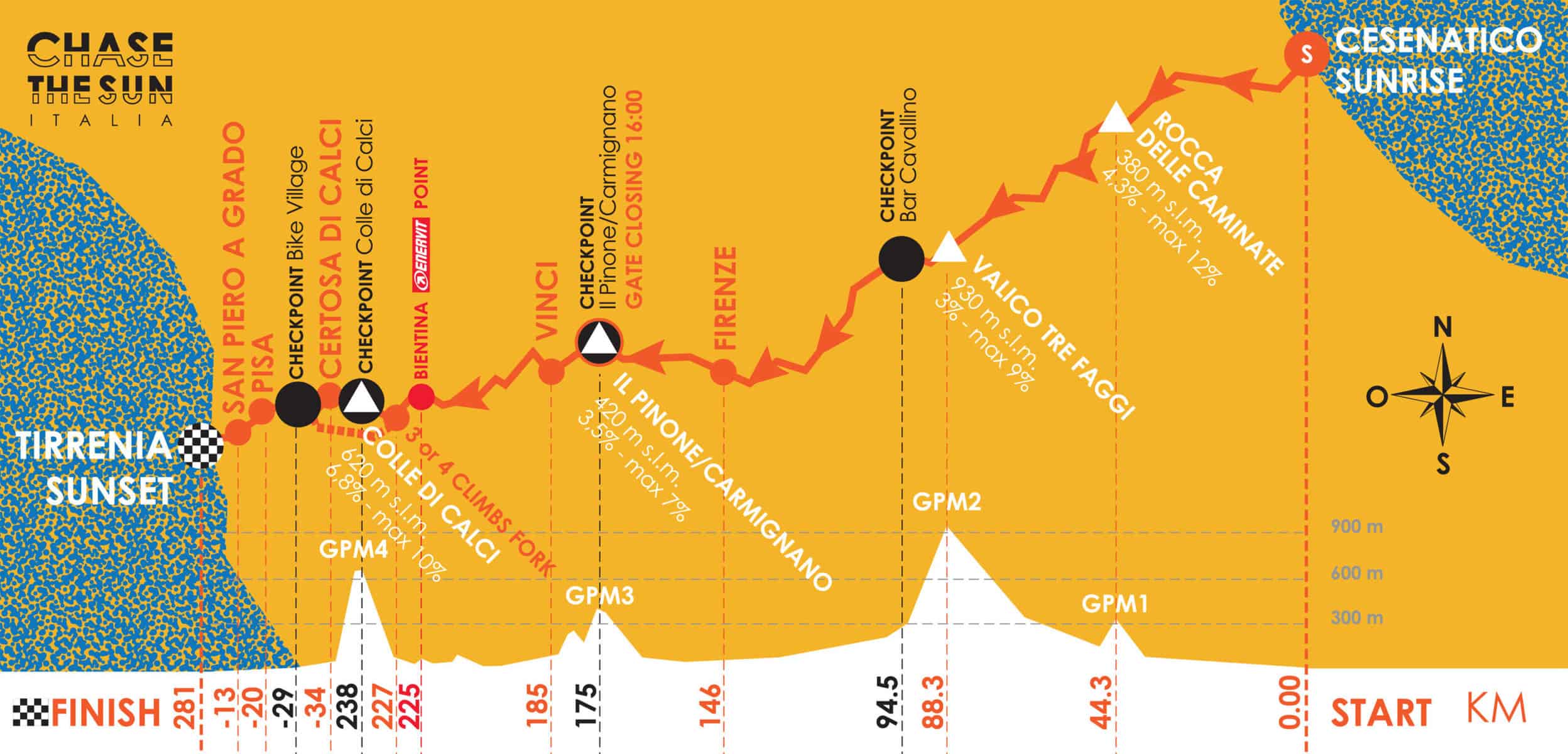 CHASE THE SUN ITALIA 2024 ROUTE
Unique route with an optional fourth climb to Colle di Calci | distance 280 kilometers | uphill difference in altitude 2,600 meters
(3,200 with the optional climb to Colle di Calci.
START CESENATICO | MELDOLA | ROCCA DELLE CAMINATE | PREDAPPIO | PREMILCUORE-FORESTE CASENTINESI | VALICO TRE FAGGI | BAR CAVALLINO-SAN GODENZO | DICOMANO | RUFINA | PONTASSIEVE | FIRENZE | SIGNA | CARMIGNANO-IL PINONE | VINCI | MASSARELLA | BIENTINA | VICOPISANO | SAN GIULIANO TERME-BIKE VILLAGE | PISA | MARINA DI PISA | TIRRENIA FINISH
Anyone who wants to tackle the optional climb must have passed the closing gate at Pinone before 4.00 pm, after passing Bientina you cross Buti tackling the climb to Colle
di Calci. Return to the original track near the Certosa di Calci.
START CHECKPOINT – CESENATICO HOTEL MIRAMARE
First climb – starts at km 38, in 6 km it goes up of 305 meters, reaching Rocca delle Caminate.
Second climb at Valico Tre Faggi, starting from Predappio, you reach 930 meters above sea level Cima Coppi of this route, 860 meters of altitude difference, in just under 40 kilometers.
First checkpoint BAR CAVALLINO – km 94.5 700mslm.
Third climb – starts at 163 km Carmignano-Il Pinone, 380 metres of climbing in about 12 kilometres to reach 420 metres above sea level.
Second check-point IL PINONE – km 175 CLOSING GATE h. 16.00
Optional climb to Colle di Calci – Prato Ceragiola, starts at km 222 (Cascine di Buti), 600D+, check-point RISTORANTE I CRISTALLI – km 233
Third check-point San Giuliano Terme – BIKE VILLAGE, 30km to finish
By the way, along your ride, between start and finish, you will climb about 1000 m more of the principal climbs, some up-and-down will engage your legs (Riserva di Montefalcone, Foreste di Staffoli, Val di Nievole and others…). Stay tuned, stay TRAINED!
FINISH CHECKPOINT – BAGNO SIRIA TIRRENIA You are SUNCHASER!
CLOSING GATE TO THE PINONE H. 16.00 (4:00 pm)
Anyone who wants to tackle the optional climb must have passed the closing gate at Pinone before 4.00 pm
Track and orange ribbon
Starting from the end of May each participant will be able to download the gpx track. The track is a proposal, chosen among our Strade Zitte, to cross the country from one coast to the other. It is not mandatory to follow it 100%. But don't forget to check at the checkpoints to certify your passage.
There is no race, so there is no race number. The given numbers are used exclusively for the identification of luggage and recognition for the photo shoot offered in the pack.
There is no classification, only an alphabetical list of finishers. No medal, but the great personal satisfaction of having managed to cross Italy from coast to coast in just one day. There is the SunChaser's Diploma (downloadable from the web), Cinelli Finisher Capi, the Sunset Dinner, the souvenir photos, the swim at the arrival. And you will enrich your palmarès with a feat that will remain impressed in your memory.
The most trained and fast are invited to adjust the pace in order to enjoy the route, the landscape, and the stops at checkpoints. And help everyone complete the route from sunrise to sunset. Behavior on the road and with other cyclists will determine how successful the ride is.
Along the way, you will detect the other Chasers from the "sunshine ray" (orange ribbon) that you will find in the rider kit. Tie it tight under your saddle.
To take part to the event you have to bring lights (front and rear) and a battery pack to charge your devices. 
It's a ride, not a race. And whoever arrives too early pays for everyone's drinks!